Don't you think having a black kitchen is a nice idea? So, we believe that you should try out some black kitchen ideas to embrace the beauty of the dark. Obviously, it's a place where you have to cook some of the best dishes that you are going to bring to your family, and it is important to make it elegant and subtle.
A black kitchen island announces modernism and a timeless appeal that will satisfy the décor perfectionist in you for years to come. It combines flair and utility to give your cooking environment a feeling of refinement.
Check out these black kitchen ideas if you have been considering including a black island in your upcoming kitchen renovation.
1. A Black Kitchen with a Beautiful Look
Black kitchens function best in a location with plenty of sunlight if you want to avoid producing a gloomy, dark room. Consider this charming illustration from the Devol Kitchens. The location of the stainless steel appliances and charcoal black cabinetry was determined by the window facing out onto the front yard. The marble used for the countertop is statuary, which is regarded as the most priceless of all the varieties of marble. Oak makes up the hardwood floor. The kitchen is more understated, beautiful, and visually calming.
2. Mix Metal with Marble
Take a peek at the kitchen in the old New York residence of Nate Berkus and Jeremiah Brent, which has Fennica butcher-block worktops and cabinets. The island in question has Breccia Imperiale marble from autistic tile on top and is covered in unlacquered metal. The kitchen's beauty is further enhanced by the marble shelves that sit on brackets from Liz's antique hardware. Other notable features include the Home Depot subway tiling, an 18th-century Peruvian painting of Saint Peter. Overall, you will be able to draw attention to this kitchen every time you look at it.
3. Play with Black and Brown
One of the various systems provided by the interior design company Homepolish is cozy modernism. This city apartment's all-black kitchen is an excellent example of design. The mat cabinets are made more gorgeous by the Chrome hardware. Beautiful white marble is used for the sink backsplash and counter. A charcoal quartz countertop gives the kitchen island a modern appearance. The kitchen seems cozy and appealing to the plush brown leather bar stools.
4. Go for Gold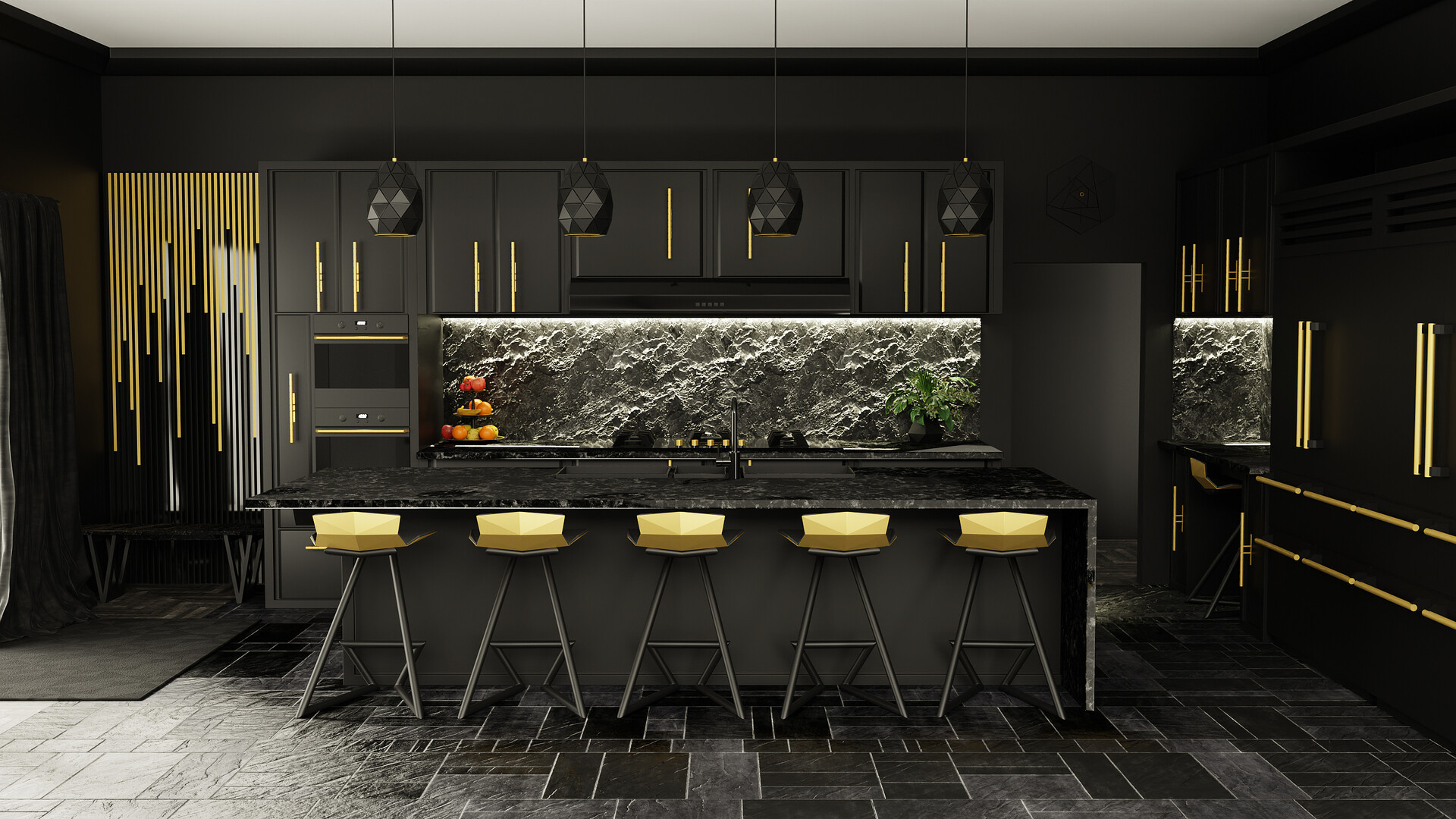 Black and gold are a classic combination. Architect Richard Landry and interior designer John Benki created the former Los Angeles home of Tom Brady and Giselle. The kitchen features antique Tunisian tile backsplash from exquisite surfaces, formations of pendant lighting, and marble countertops from compass architectural stone. Your guests will adore the design since it is enduring.
5. Get a Masculine Vibe
Sean Carlson Perry, an interior designer, set out to build a contemporary kitchen with a macho feel. He used classic culinary utensils in contrasting colors to complete the task. This space is anchored by the coal shaker cabinets. The white subway tile stands out against the dark Gray grout. Words with a marble-like appearance are used for the countertops. The industrial vibe is poured on by the vintage warehouse printing lighting. And at last, the classic bar stools add to the masculine charm of the kitchen.
6. Industrial Inspiration
A mix of modern and old items make up the industrial-style black in the San Francisco condo that the daily general contractor renovated. Reclaimed wood from neighborhood scrap yards is used for the damaged cabinet doors will stop the brand-new wood cabinets from having an espresso-black stain. Quartz is a shiny gray color on the counters. The drafting stools are old industrial items. The salvaged parts were used to create the DIY pendant lights. The wall on the left was given a humorous touch with chalkboard paint.
7. Open Shelving
Don't overlook the ends of the island while seeking storage space because there are few small shelves there that can hold anything from your precious crockery to your dog-eared cookbooks. The wolf is a tube, and subway tile is a feature of this miles-red kitchen. Make your kitchen appear more opulent and spacious with this fashion statement. Additionally, make a strong impression with your style strategy by letting your kitchen speak rather than your words.
8. Matte and Glossy finish
Interior designers in Karen Steele remodeled a kitchen in this apartment if you want a modern, clean style for your kitchen design. She paired glossy backsplash tiles with matte black cabinetry. The vertical installation of the subway tiles adds an unexpected twist. In a dark kitchen, don't be scared to combine metals. Here, the pusher block counters and brass cabinet knobs work well together, And the nickel pendant lighting and Chrome tab make a stunning pair. The blue cabinetry gives a folk sallow interior design room a beach feel.
9. Play with Colors
Consider experimenting with various colors while mixing them with a dark hue. Is black kitchen by Parker bathroom and kitchens evidence that every color in the spectrum complements the deep tone? A vibrant set of cabinets in blue, orange, lime, red, and magenta are set up against the shiny back wall. The base cabinets are a steely gray matte color. Quartz and shiny black color cover the countertops. Turn conventional color scheme works beautifully with black giving your kitchen a sophisticated look. Applying this look will make you stand out among many others.
10. Luxe Details with Gold Accents
What about enhancing its elegant ship with luxurious details? The definition of kitchen island ambitions is this black island with gold embellishments. This black and white kitchen, which is oozing with glitz and splendor, exudes the height of luxury. It has, without a doubt, been extremely carefully and brilliantly created. The stark contrast provided by the printed backsplash and white cabinets heightens the grandeur of this kitchen and makes a strong statement. What's intriguing is how the pattern gives the kitchen a distinctive transitional aspect. Many people will be drawn to this appearance since it is so therapeutic.
11. Toning Black, Grey, and White Together
What could be superior to minimalism? This Scandinavian black, Gray, and white minimalist kitchen design, in keeping with minimalism, blends the best of simplicity with utility. What's more impressive is a straightforward island that serves as a breakfast counter and quietly unifies the entire kitchen. The usage of Cool Gray for the cabinets and refrigerator demonstrates the client's and designer's impeccable taste. Tiles on the floor further open up the room and give the impression that it is larger than it actually is. This kitchen has a very contemporary and inviting appearance.
12. Round Out The Corners
Consider rounded edges for your kitchen island if you want design ideas that will stand out. Every area of this LA getaway, including the kitchen islands, has a mid-century modern sense of fun, according to the interior designer jimmy bush. This design might be much more helpful for your regular meal preparation, particularly if you enjoy cooking. A great-looking style that will undoubtedly fit your preferences. It is basic, contemporary, and creative.
13. Black Paneled English Kitchen
What about something more regal and alluring, particularly if it's English? The owners of this ancient property in Kent, England, commissioned The Vawdrey House's design to update their old kitchen for the twenty-first century. The end product is a completely contemporary kitchen with black panels. Marble from Carrera tops the white kitchen island. The customer chose a butcher block countertop against the rear wall to add sophistication while saving a little money. This style is far more functional and appears more luxurious and vintage to possess.
14. Add a Cooktop
How about this lovely thing? It appears both unbelievable and beautiful. This black kitchen island will leave a lasting impression on your visitor's thanks to its sleek Scandinavian design and regal appeal. Moreover, the kitchen beautifully contrasts with the Ebony Who island, bringing out the counter sleek appeal and enhancing the setting country cottage while. A wonderful finishing touch is the wooden beams and slanted ceiling! This gives the kitchen a modern, streamlined appearance overall.
16. Black Backsplash for Cheap
Nina Holes, the fashion Blogger behind it, stylishly removed and installed black, fingerprint-resistant laminate cabinets and then inexpensively made a stylish wood backsplash for her kitchen. She started by trimming a piece of plywood and size. The board's inherent grain was then highlighted by the addition of a black wood stain. The new backsplash was sealed with a mat, water repellent sealant as the last preparation step before installation. Space for preparation one moment, entertainment the next. The use of this kitchen island also helped separate the eating area from the cooking area.
17. Black and Red to Make It Retro
Wasn't retro more entertaining, and vintage kitchen count questionably have a timeless look. The challenge is to design an environment that doesn't appear to be frozen in time. Here, the classic black shaker cabinets by interior design firm Kendrick Cool were installed. The red oven is a brand-new appliance from the big chill with a retro design. This style is more visually appealing and gives off a nostalgic atmosphere. The backsplash made of pure white subway tiles serves as the ideal setting. Also, you wouldn't want to leave the nostalgic atmosphere. If you have a kitchen with a matte black or black theme, it is highly advocated and urged to try out this kitchen concept.
18. Enclosed Black Kitchen
Designed by ban architecture, who turned a depressing, outdated kitchen from the 1960s into a radical new cooking area. What does it mean exactly that black walls and kitchen islands are made of black Valchromat, A wood fiber-based substance that is solid color throughout? Drill holes, tents, and scratches will all match the veneer color of the board. The black worktops, backsplash, and shelves are made of natural wood that has been sealed to repel water. In contrast, the combination seems elegant, simple, and contemporary.
19. Try Out Styling Chrome
Anyone who loves Chrome? Chrome and black cabinets work well together because they create a conversation between a prideful, shining surface and a more somber Matte finish. In the kitchen of her Rio de Janeiro residence, designer Juliana Lina Vasconcellos deftly combines these two styles, adding a Hermes Ebanisteria table for some contrast. The standard for elegance and drama in kitchen design is raised by this entire process. The black cabinets seem sleek and minimalist, thanks to the natural light. That concept carried over to the kitchen, which deftly strikes a balance between dark cabinetry and an open-range hood.
20. Statement Chairs
Black cabinets are only one aspect of the kitchen; Adding additional poppies to the room, like these can red chairs in Darrell-Britney and James Fenton Harlem mention, may completely transform the room. Here, a stunning color narrative is created by the combination of red, black, and soft blue. The overall appearance is softer and has a more subdued, noticeable eye-soothing impact with light coming in through the windows. Just make sure to provide the area with some soft, melancholy lighting.
21. Color Pop
Popping colors may elevate a black-and-white kitchen, which can be subtle and lovely, to a higher level. Filmmaker Dorothy Berwin updated the kitchen in her Manhattan apartment with a stylish Sabine Marcellus table, intelligently contrasting it with the dark cabinets and angular white worktops. The pallet doesn't appear to be very cluttered, but it has been positioned quite precisely, giving the composition a more regal appearance. Smooth and serene, the design speaks for itself.
Conclusion
Finally, black kitchen islands are a gorgeous and functional option for any contemporary house. They give the kitchen area a feeling of refinement, elegance, and drama. There are several design options available to suit every style and preference, whether you want a modern, glossy black island or a rustic Matt finish.
Black islands may be personalized to your preference and match your existing décor, whether you like a simple or elaborate design. Infinite creativity and customization are possible due to the large variety of materials, coatings, and features offered. Black kitchen islands.
Therefore, think about using a black kitchen island in your upcoming home improvement or design project and take pleasure in the classy beauty and usefulness it adds to your kitchen area.